The Quantum Victoria staff are highly specialised and skilled practitioners of Science, Mathematics and STEM Education.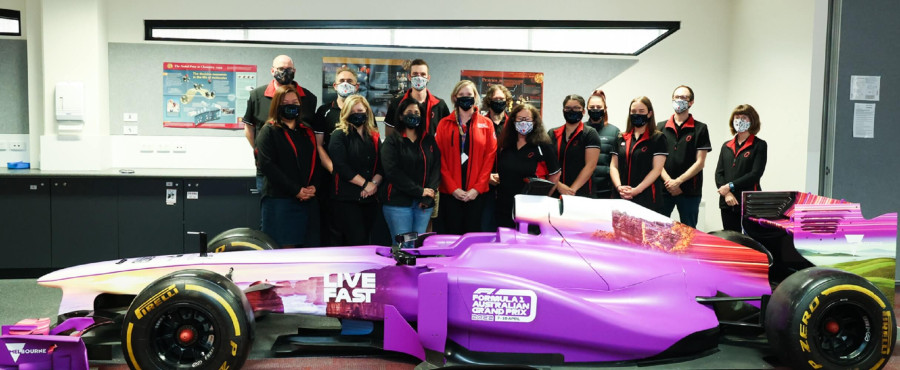 Soula Bennett
Director - Campus Principal
Soula is the founding Director of Quantum Victoria and brings 30 years of leadership and teaching experience in the Physical Sciences, Mathematics and STEM Education, including 12 years as the President of the Science Teachers' Association of Victoria (STAV). Soula is a system leader and thinker and her experience and attributes have been utilised on Advisory Boards of Australian Research Council Centres including, The ARC Centre of Excellence in Free Radical Chemistry and Biotechnology and the Centre of Excellence for All-Sky Astrophysics (CAASTRO) and through University and Industry partnerships resulting in successful grant applications including leading the school component of the Australian Government's Cyber Security Skills Partnership Innovation Project. Soula is a member of the Victorian Tech Schools Advisory Panel and is a contributor to the STEM Education landscape at a state, national and international level.

Carlie Alexander
Teaching & Learning
Carlie is a P-12 Specialist teacher who previously taught first year biology at the University of Melbourne. She completed her Bachelor of Science and Master of Science (Marine Biology) at the University of Melbourne and her research involved determining the spread of introduced and invasive marine invertebrates and algae in a Marine National Park. Other study areas included Chemistry, Earth Sciences, Botany and Mathematics.

David Feillafe
IT Systems Engineer
David is a Network Engineer, IT Administrator, and Software Developer with a range of experiences in IT, management and teaching across the school and university sectors. He brings over 15 years of varied IT experience and manages the ICT/AV infrastructure at the Centre.

Toni Little
Portal Development
Toni brings over 35 years of experience in teaching and learning in secondary science, mathematics and physics in her role as a developer of Senior Physics and Mathematics Portal programs. Toni has developed the Unit 1-4 Physics and Unit 3 -4 Further Mathematics Online Modules and Revision Courses.

Scott Mclean
Learning Specialist
Scott brings extensive teaching experience across Year 7-12 Mathematics and Science in his Learning Specialist role at Quantum Victoria. This is enhanced by his background as a research scientist where he obtained a PhD in Chemistry and subsequent work as a post-doctoral researcher. Scott is passionate about developing students' numeracy abilities and promoting scientific literacy is a Microsoft Innovative Education Expert.

Yuvadee Patchon
Lab Manager & Program Facilitator
Yuvadee has over 30 years' experience as a Laboratory Technician across both the University and School sectors and manages the Lab at Quantum Victoria. Yuvadee supports the delivery of student and teacher programs at Quantum Victoria and has served as the Lab Tech representatives on the Council of the Science Teachers' Association of Victoria (STAV) for a period of 6 years.

Anthony Simcox
Teaching and Learning
Anthony brings over 30 years of industry experience in Engineering, Defense, Communications and Security to his teaching and learning role at Quantum Victoria. He specialises in the teaching of Secondary Physical Science, Mathematics and Technology. He is passionate about bringing his industry knowledge and experience into the classroom to help students understand how their learning and skills relate to industry applications and workplaces.

Jakin Stasce
Teaching and Learning
Jakin brings a wide range of experience working in Communications, the Fitness industry, and Defense to his role in teaching and learning at Quantum Victoria. His passion for STEM and education began in university where he discovered his love for sharing knowledge in genetics and chemistry. This led Jakin to undertake voluntary work overseas to develop further medical training for developing nations. Jakin looks forward to building student confidence and agency in STEM through inquiry-based problem solving as students engage in the Quantum Victoria programs.

Mahaelia Thavarajah
Teaching and Learning
Mahaelia is a Primary specialist who is passionate about STEM education, predominantly, the disciplines of Engineering and Science. She has an interest in game-based learning and is keen to implement strategies that foster deeper learning in STEM for all students with a particular focus on primary students. Mahaelia is also co-editor to the STAV Primary Journal - Let's Find Out (LFO).

Campbell Wiggins
Teaching and Learning
Campbell brings experience in Exercise and Sports Science to his teaching and learning role at Quantum Victoria. He has spent the last 6 years of his career in the Fitness Industry, helping people achieve their health and fitness goals through evidence-based research. With passions in science, mathematics and technology, he looks to encourage students towards a future in STEM.